Schedule: this document will be added to constantly so check the website and oncourse always!!
Week 1 Introductions and Understanding media
Download the Medium is the message as a Word document
Raw zipped images of The Medium is the Message
Week 2 The Conduit Metaphor, Prototype Theory and Language
Tuesday quiz, due Monday by 5pm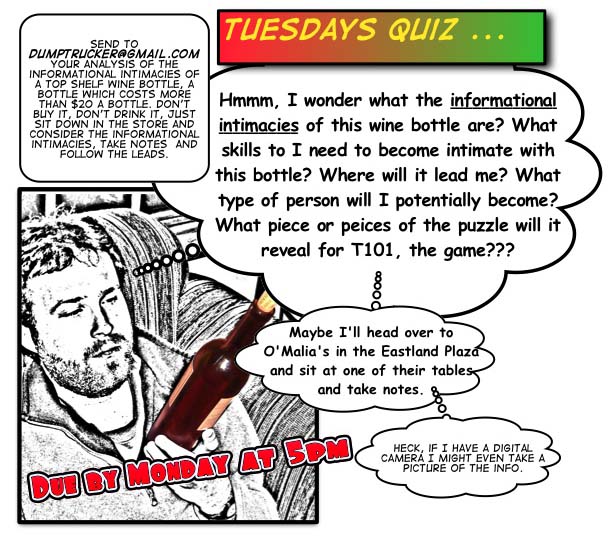 Concepts We Live By
Bring a 1 page typed research proposal to your discussion section meeting on Friday.
Week 3, 1-23 - > 1/27 The Communications Revolution (reader)
Quiz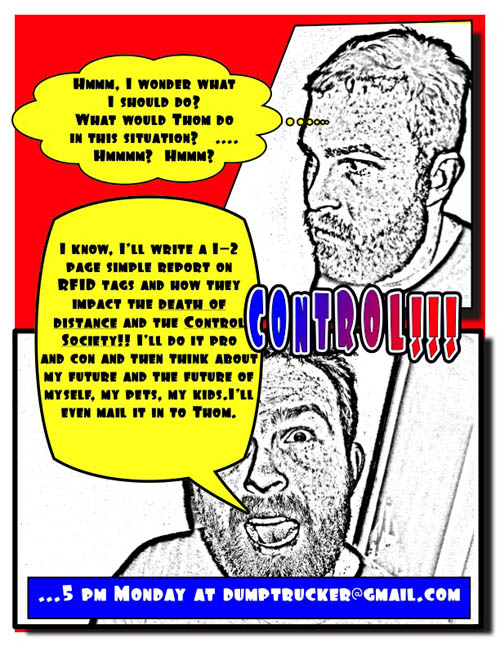 For Thursday be prepared to discuss and compare the readings for the week: Death of Distance, Beniger and particularly Rushkoff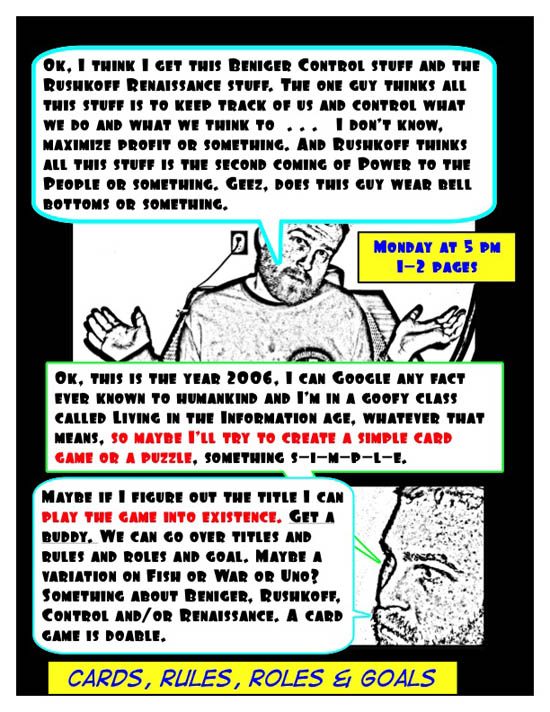 Check this out for help designing card games!!
Animal Rummy
Puzzles 4 Kids
Will Shortz, a the most famous puzzle designer in the world and an IU grad
Due: Monday at 5, 30th of January
Living in the Info Age this week
Week 4 New Media Theory (reader)
Reading guide for Thursday, pay attention to: mediamorphosis, 30 year rule, technomyopia, FM, convergence, internet intoxication, ,Zannah, sociality, remediation, immediacy, hypermediacy, replacement, collage, uses & gratification, www & control, anarchy.
History of Communication
Douglas Engelbart
$100 laptop
Xerox Alto
Important: To subscribe to our list, send mail to: listserv@indiana.edu
In the body of the message include: subscribe T101THEGAME-L
Living in the Info Age this week
Week 5 Convergence (reader)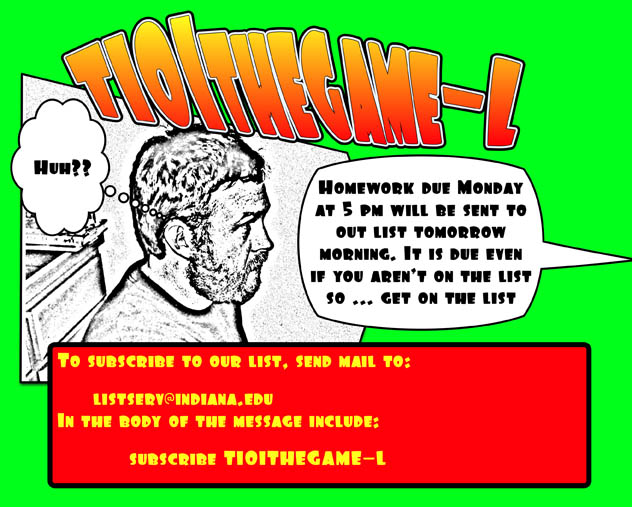 For Thursday from chapter 3 of our book pay particular attention to: convergence; digitization; information flow as in the Conduit metaphor; cookies; viral marketing; peer-to-peer; the 'Daily Me'; oligopolies; hyperlinks and storytelling; 'the War Inside Sony' & why; OpenMG; digital rights management; the '30'; the vcr in 1975; the fundamental premise of TV broadcasting; MyTv; Tivo; MythTV; invisible effects; will digital cinema replace fil, why & why not.
More wiki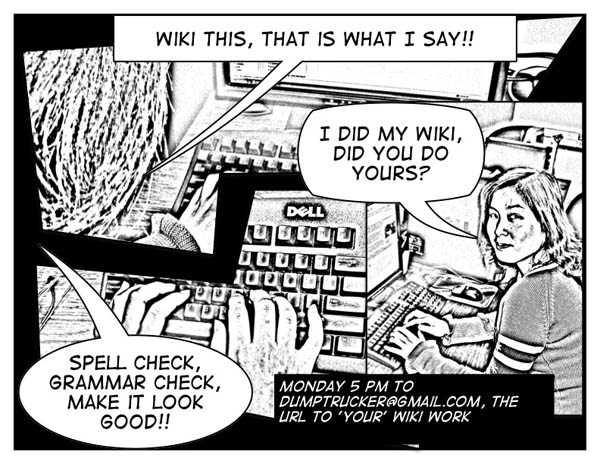 Convergence and Concentration
Week 6 Media Concentration (reader)
Reading guide for Thursday, be able to discuss in detail: McChesney's concept of new global media, compare McChesney's new global media with Compaine's view of global media. How does Clear Channel program America? Why? Is there a problem with media ownership from your point of view and what should be done or not done to fix it.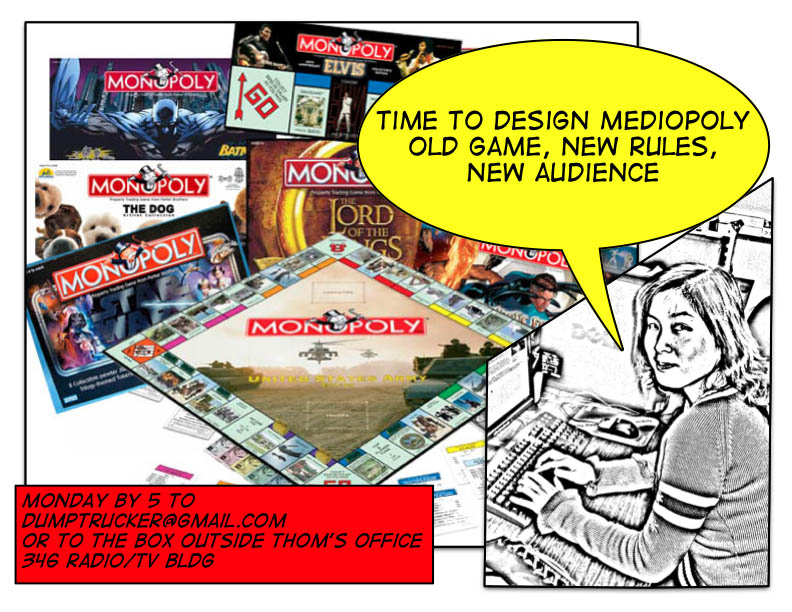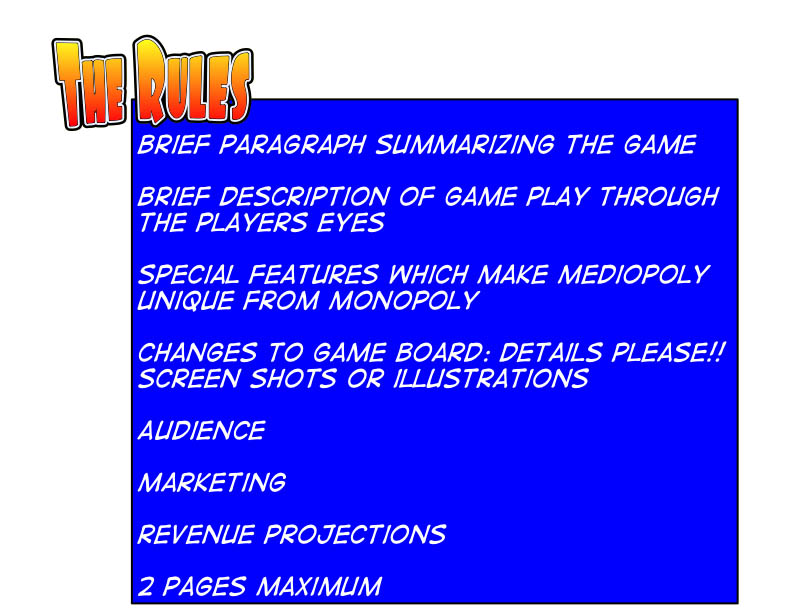 Week 7 At the interface: New Intimacies, New Cultures (reader) Feb 21, 23
Reading guide for in-class quiz on Thursday, be able to discuss in detail:
Marine Doom,
The relationship between USC and the Army
Differential Analyzer,
Hutchinson & Thompson
Date Crunching
defense conversion-reinsertion
security through obscurity
the collapse of inconvenience
how you remove information from Google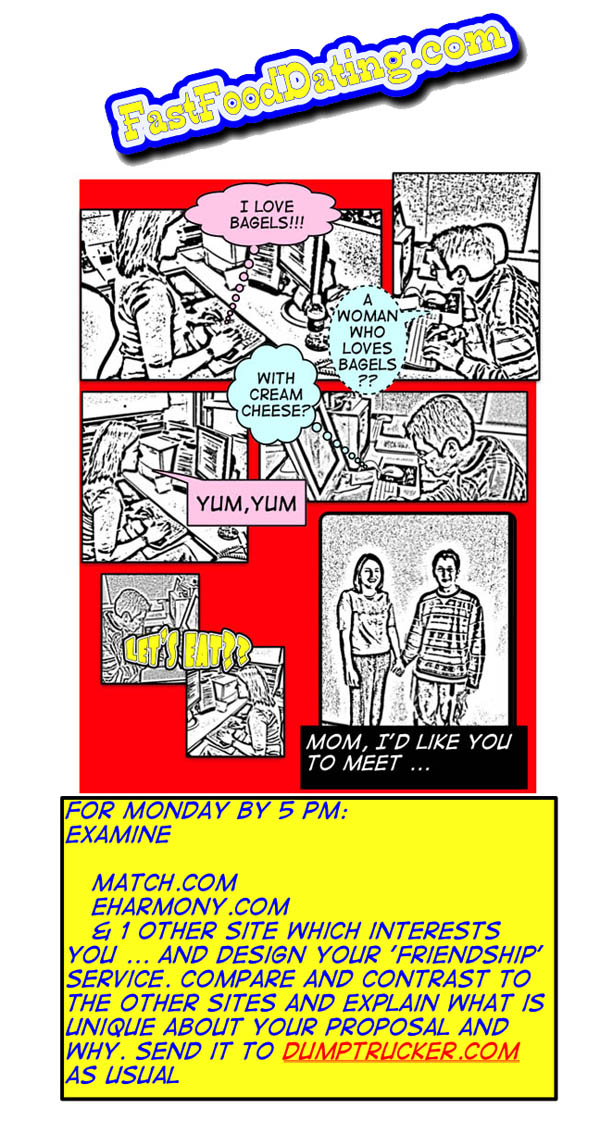 Week 8 Media Saturation and speed of life (reader) Feb 28, Mar 2
For Thursday bring in your version of a quiz covering the readings. Bring 2 copies. At the top include the creators name, yours, and on the next line space for the person taking the quiz. Style points will be given for an 'interesting' quiz which covers the readings.
Week 9 Networking (reader) Mar 7, 9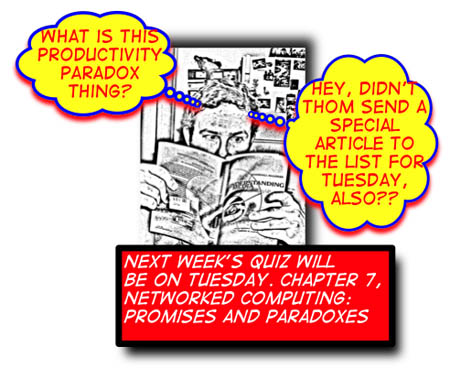 Week 9 Spring break Mar 14, 16
Start this assignment during spring break. It is not difficult but it will take about 4-5 weeks for you to get the information you need to complete this assignment.
Go to this page and fill out a freedom of information request on yourself: http://www.fcc.gov/foia/ Most likely you will not have a file but the point isn't to see or even to find a file on you but to understand the process of requesting one. If you have a file you will not be handing in your file to me or anyone else in this class.
Go to this page and request your personal data file: http://www.choicepoint.com/factact.html. This is ChoicePoint and they are totally private, heavily used by the government to collect information the government is not allowed to collect, collate or analyze. If you have a credit card in your name they will have a file on you and maybe all sorts of information you don't even know about yourself. Again, you are not handing in this information to me or anyone in the class. This assignment is about know who knows what about you. Might not be important at this moment but may become very important as you go through life. This is truly about living in the information age
Week 10 Questioning technology (reader) Mar 21, 23